AOD9604 3.2mg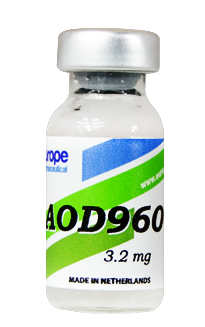 This peptide increases the fat metabolism and muscle building!
AOD9604 is synthetic peptide also knows as tyr-somatostatin 177-191. Contains 14 amino acids. This peptide is analog of the growth hormone. During studies of metabolic effects on obesity, it was found that AOD9604 does not have the adverse effect of insulin sensitivity.
AOD9604 mimics the action of growth hormone, but without adverse effects on the blood glucose levels. It does not allow the fat to be stored in the cells and improves cholesterol levels in the body. Studies show that even the most stubborn fat deposits are broken down using AOD9604.
This synthetic peptide responds well to people suffering from osteoartrit.
We can conclude that AOD9604 burns fat, builds muscle mass and supports the structure and function of joints.