Tesamorelin 2mg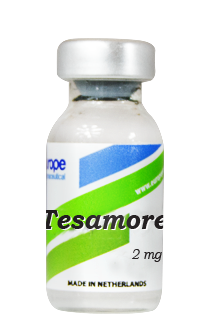 Tesamorelin, also known as TH9507, is a growth hormone-releasing peptide.
The peptide consists of all 44 amino acids from human growth hormone-releasing hormone and contains an extra hexenoic acid group, which limits its degradation.
Tesamorelin stimulates the release of growth hormone by activating the ghrelin receptor found in the brain.
Activating this receptor and increasing the levels of growth hormone within the body can modulate food intake and energy metabolism and also influences glucose and fat metabolism.
Tesamorelin will stimulate the secretion of the whole family of growth hormone peptides normally secreted by the pituitary gland.
These hormones will stimulate increases in bone density and collagen production, as well as boosting the immune system.
They will also stimulate the production of lean muscle mass.
Growth hormone release will also accelerate fat loss and weight loss and stimulate anabolic effects via growth hormone induced fat breakdown.
This is why the peptide is currently marketed as Egrifta, the FDA-approved drug for reducing excess abdominal fat in HIV-infected patients.
In clinical trials the drug was shown to reduce visceral fat by around 18% and also reduced trunk fat, waist circumference and waist to hip ratio.
In healthy males, tesamorelin was shown to enhance natural GH pulsatility and increased IGF-I without altering insulin sensitivity.
The authors also suggest that tesamorelin may be useful at counteracting the reduction in GH secretion seen in overweight and obese patients.
Additionally, human studies on a healthy and aging population showed that short-term treatment with tesamorelin improved the brain function for healthy and memory-impaired older individuals.
The same study also demonstrated that the peptide had a positive effect on verbal memory in adults who were at high risk of developing Alzheimer's disease.
The half-life of tesamorelin is estimated to be between 26 and 38 minutes, but its ability to stimulate growth hormone secretion has been clearly demonstrated after two weeks of once-daily dosing.
For fat loss and muscle growth, tesamorelin should be administered by subcutaneous injection at a dose of 2 mg, following reconstitution in BAC water.
For cognitive benefits the peptide can be administered at 1 mg per day. The treatment cycle should run for two weeks, followed by two weeks of withdrawal.
Tesamorelin administration has been shown to be well tolerated, with no serious adverse events observed.
The peptide is registered as an FDA-approved drug and has therefore been subjected to extensive clinical testing in humans.
However, some minor side effects reported following administration of the drug include nausea and muscle aches.