GHRP-6 5mg + MOD-GRF 5mg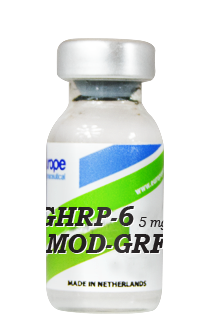 10mg in vial, combination of GHRP-6 5mg and Mod Grf 5mg
Modified GRF(1-29) is a Long acting GHRH analog. Growth-hormone-releasing hormone (GHRH), also known as growth-hormone-releasing factor (GRF or GHRF) or somatocrinin, is a 44-amino acid peptide hormone produced in the hypothalamus by the arcuate nucleus.
GHRH has been shown to help stimulate growth hormone (GH) secretion from the pituitary.
GHRH is released in a pulsatile manner, stimulating pulsatile release of GH respectively.
GHRP-6 (Growth Hormone Releasing Peptide – 6) is a 28-amino-acid peptide that signals the human body to begin secreting growth-hormone (GH).
Growth Hormone in the human body has host of beneficial effects such as decreased body fat, increased muscle, and increased strength and stamina.
The Growth Hormone secreted by the body then causes the liver to secrete the highly anabolic hormone known as IGF-1.
IGF-1 also contributes greatly to the body's ability to burn fat and build muscle. Thus, in several studies, when subjects were given GHRP-6, their muscle mass increased and their body fat was reduced significantly.
Growth hormone (GH) has been also been known to enhance immune responses and stimulate the immune system, whether directly or through the insulin like growth factor-1 signaled secretion caused by GH.
GHRP-6 has also been shown to have this immune enhancing effect, particularly older subjects.