Growth Hormone Releasing Peptide - 2 (GHRP2)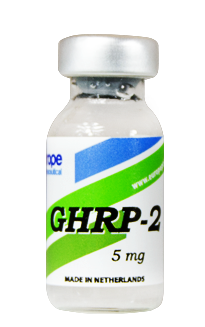 Is a synthetic six amino acid peptide that has robustly potent properties.
GHRPs are a small family of peptides acting at the pituitary and the hypothalamus to release Growth hormone (GH) through the activation of a specific, G protein-coupled receptor. They were discovered 20 years ago as synthetic metenkephalin- derived oligopeptides (Synthetic tissue derived amino acids). Although it has no structural homology with Growth Hormone Releasing Hormone (GHRH), in clinical studies GHRP-2 demonstrated action on the pituitary to release Human Growth Hormone (HGH). Similar results were effective when GHRP-2 was administered sublingual. Clinical studies showed the most potent GHRP being the hexapeptide GHRP-2.
Growth Hormone Releasing Peptide 2(GHRP2) substantially stimulates the pituitary gland's increased natural production of the body's own endogenous human growth hormone (HGH). This therapy consists of daily periodic sub-lingual dosing. Growth Hormone releasing peptide 2, GHRP2 has shown on it's own to robustly increase IGF-1 levels, and even greater results occurred when used with Growth Hormone Releasing Hormone (GHRH) to which also stimulates the pituitary gland to produce increased natural secretion of human growth hormone. This also boosts the hypothalamus function as well.