Growth Hormone Releasing Peptide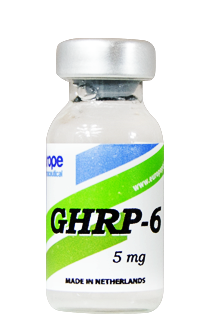 GHRP-6 (Growth Hormone Releasing Peptide – 6) is a 28-amino-acid peptide that signals the human body to begin secreting growth-hormone (GH). Growth Hormone in the human body has host of beneficial effects such as decreased body fat, increased muscle, and increased strength and stamina. The Growth Hormone secreted by the body then causes the liver to secrete the highly anabolic hormone known as IGF-1. IGF-1 also contributes greatly to the body's ability to burn fat and build muscle. Thus, in several studies, when subjects were given GHRP-6, their muscle mass increased and their body fat was reduced significantly.
Growth hormone (GH) has been also been known to enhance immune responses and stimulate the immune system, whether directly or through the insulin like growth factor-1 signaled secretion caused by GH. GHRP-6 has also been shown to have this immune enhancing effect, particularly older subjects.